Low Flow Sampling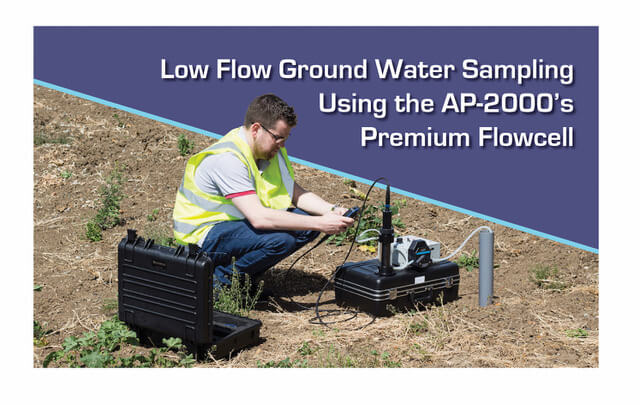 When you need to retrieve high-quality groundwater samples, low flow sampling systems provide an excellent way to retrieve accurate results. While the system is fairly new to the UK, it's many advantages over more traditional sampling systems has seen its popularity in the industry grow rapidly.
Low flow sampling works by extracting the water at rates similar to ambient water flow, which in turn minimises the drawdown of the water level.
Water is typically extracted through the use of pumps, which also have the added benefit of helping to reduce the mixing of stagnant water with the water that needs to be tested. Here at Aquaread, we stock a variety of pumps to aid with your low flow sampling, including bladder, inertial and peristaltic.
During the testing, the system is able to detect parameters such as pH, EC and DO. Typically readings of these water quality parameters are read 3 times to ensure stability before sampling begins. As such, a successful low flow sampling should typically take you no more than half an hour.
Read our complete guide to Low Flow Sampling
For regular low flow groundwater sampling work, the AP-2000 is the go-to choice. Not only can it measure pH, ORP, EC, DO and temperature, but you can add any of our ISE or optical sensors to better suit your project needs. Furthermore, they are suitable for both fresh and salt waters thanks to being constructed from rough marine grade aluminium.
We also offer flow cells that can be attached to the AP-2000 to ensure the equipment doesn't need to be submerged in the water to get a reading. The cell can collect water from its base which then exits through an opening at the top. This helps ensure the water is evenly distributed over the sensor without needing to fully submerge it in the water itself.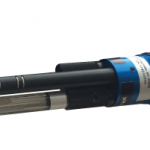 The AP-2000 with the protective sleeve removed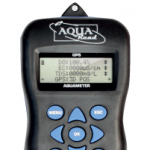 The GPS Aquameter can be used with any of our Aquaprobes and features built in GPS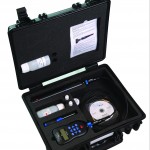 The AP-2000 is available as part of a complete package
AP-2000 Key Features:
Award winning UK design, manufacture and support.
Simple touch button calibration with Rapidcal for all main parameters.
User changeable sensors.
Superior accuracy.
2" diameter with a variety of cable lengths available, ideal for well profiling.
GPS location storage.
Reading stability alarm, removes guess work from recording readings.
Optical dissolved oxygen, no need for intensive maintenance, instant readings.
Durable marine grade aluminium construction for use in a wide range of applications.
Two spare sensor ports to add in any of our ISE and optical electrodes.
Industry leading price.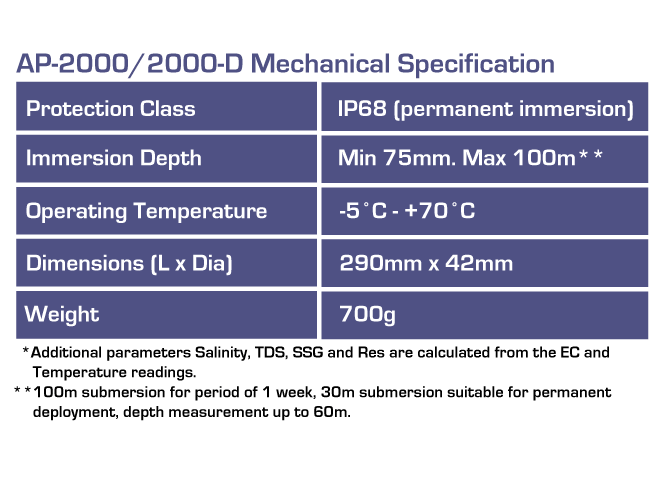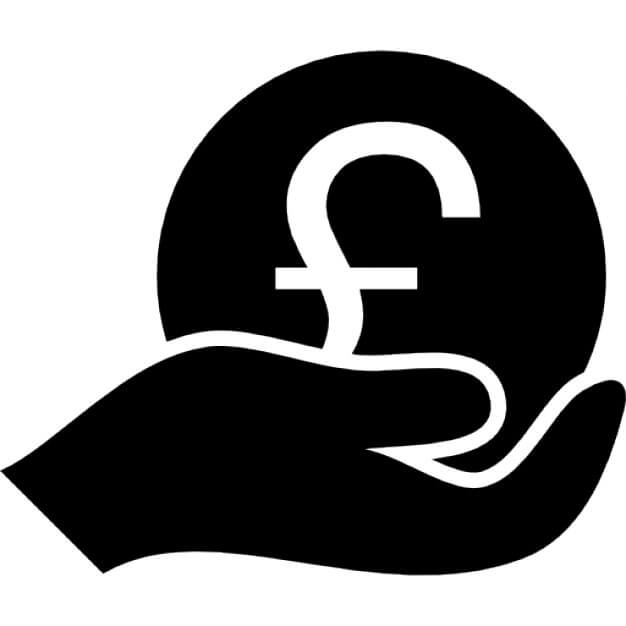 Low Cost of Ownership
The cost of ownership can catch you out when problems arise. We provide transparent pricing for all parts associated with our probes and offer a support package for all our customers in the UK, Ireland and appointed partners globally.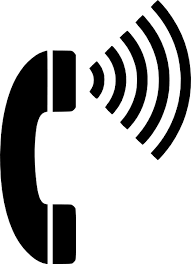 Fast Support
As a UK based designer and manufacturer, we can provide rapid support, repairs and supply of consumables and parts often on a next day basis.